The Most Comprehensive Tourism Web Information Site for the Isle of Arran, Scotland
To visit any of the Isle of Arran's 8 regions:
Please click on the map inside the region boundaries. The appropriate page opens. There you find a short description, then comprehensive listings of accommodation, restaurants and pubs, shops, visitor services and visitor attractions.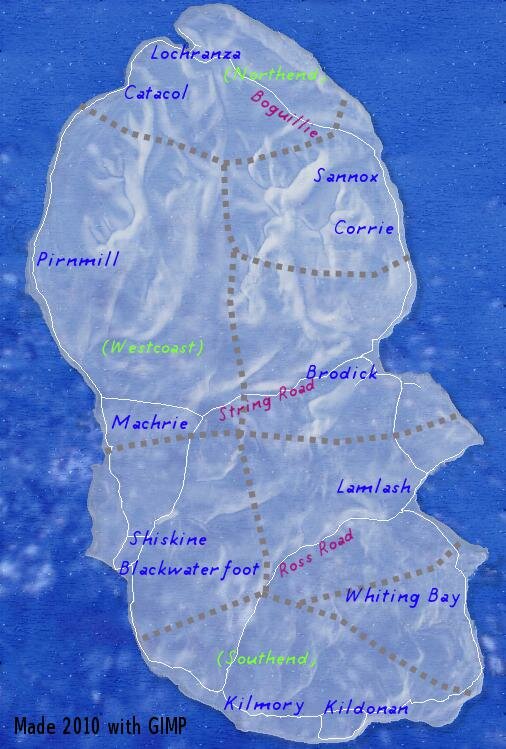 ARRAN is – Scotland in miniature
The Isle of Arran is more than just a seaside holiday destination, it is Scotland in miniature. An island which one can drive around in less than four hours. Arran offers a vast choice of accommodation: B&Bs, hotels, guesthouses, a youth hostel, self-catering, camping, caravanning, you name it. Find all the available accommodation on your regional pages. Click to where you would like to stay.
Easy access by Ferries and from Airports
Two Caledonian MacBrayne ferry routes connect Arran with the mainland. The principal route is from Ardrossan in North Ayrshire to Brodick. There are up to six connection each way per day. The second ferry is between Lochranza and Cloanaig on the peninsula of Kintyre in Argyll. About 10 connections during the season offer visitors a direct scenic way to the Scottish Highlands.
There are two International Airports in good reach, as well as a regular train service from Ardrossan Harbour to Glasgow, (Largs and Ayr too, change at Kilwinning). Buses are available from Cloanaig to Tarbert on Kintyre.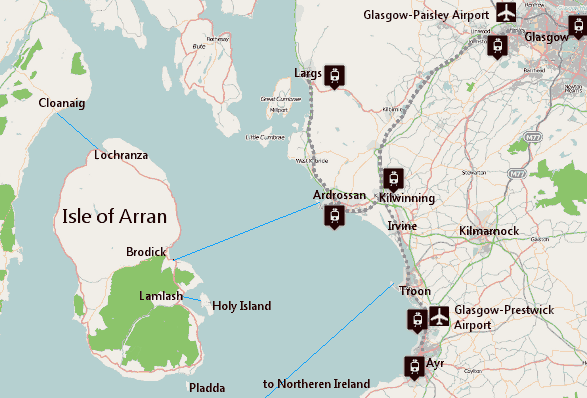 Free map provided by OpenStreetMap under a CC-BY-SA license. Additional information © by Arran Marketing, Corriecravie.
Outdoor activities are abundant
The magnificent mountains, hills, parks and gardens offer themselves to walking, climbing, hiking and biking and are an eldorado for anyone who loves bird watching, riding, pony trekking, geology, nature photographing, horticulture and painting. The great outdoors are tempting people who love sailing, kayaking, boating, diving, fishing, angling and paragliding. Putting greens, fancy golf, bowling, tennis and swimming among many more are on offer too. On our pages we show you everything which is available on Arran.
Golf is among the most popular pastimes
Golfers will find seven golf courses on the island: in Brodick, Lamlash, Whiting Bay, Lochranza, Machrie, Shiskine/Blackwaterfoot and Corrie, some of them with driving range and club with restaurant/tea room. The Arran Golf Pass allows for a trial on each of them. Special favourites are the 12-hole links course in Shiskine and the course in Lochranza where deer may watch the golfers tee off.
What to do on a rainy day?
Arran may have the occasional rainy day. For board and card games go to Bilslands or the Book and Card Shop in Brodick, Bay News in Whiting Bay, the Harbour Shop in Blackwaterfoot. The Auchrannie Spa and Playbarn (Brodick) and the Best Western Kinloch Hotel (Blackwaterfoot) offer fitness and swimming. One possible distraction may be UK's favourite online casino Spin Palace which is now available with huge jackpots as Blackberry-, iPhone-, Android- or smartphone mobile casino and at www.spinpalace.co.uk/mobile/. "Stop dreaming, Start playing". Further good activities on such days are certainly the Arran Heritage Museum (Brodick) and Brodick Castle, the two little Centres «Home Farm» and «Cladach» just outside Brodick as well as the Isle of Arran Distillery in Lochranza.
Breathtaking Scenery
With all the offers for distraction, the guests will hopefully not forget to simply enjoy the scenery, be it by seeing the sun rise in Sannox Bay or watching seals in Kildonan, taking a long stroll at the beaches of Kilmory or simply enjoy the view over to Kintyre and Ireland from Sliddery, Pirnmill, Catacol. There is an incredible diversity of scenery and beauty to enjoy any spot of Arran from the Cock of Arran in the North to Pladda in the South, from Drumadoon Point in the West to Holy Isle in the East. And not to forget Goat Fell, Arran's highest Mountain (874 m, 2866 ft), from where one has a superb 360 view up to Argyll and the Highlands, over Ayrshire and as far as Ireland.
Panorama picture © by Arran Marketing, Corriecravie. 4 pictures stitched with HUGIN Panorama software and finished with GIMP Image manipulation. Both programs are free and OpenSource.
Culture and shopping guarantee a first class visitors' experience
The less sportive guests are welcome to visit the many galleries, art and craft shops, visitor centres, the local whisky distillery and Arran's brewery. Arran is a well known place for first quality cheeses, preserves and toileteries. Many of the visitor attractions and centres offer courses and workshops for those who want to try out a new skill. Arran has also a big number of shops for everyday needs and many a heart's desires like outdoor and indoor clothing, souvenirs and gifts, books and cards, well stocked village shops often combined with the local Post Office, three Coop outlets, bakers, nurseries and garden centres etc. Not to forget Arran's dominant cultural life: the many galleries which show the work of local and visiting artists, regular drama production and high-quality musical titbits. You find them all listed on website. Please explore all our pages.
Food and Drink to match your expectations
Enjoying a hearty lunch, ending the day with dining out and savouring the food in one of the many restaurants, tearooms, cafes, pubs and inns is just the cream on the cake. Arran offers a huge choice for all tastes. From 2-AA-Rosettes to a humble pub grub and international take-away, one finds everything. Most eating places try to source local produce, for which Arran is also very famous. You'll find them all in the appropriate regional pages. Mostly with opening times.
Enjoy a holiday on Arran. And plan it with this web site!