Visitor Centres
---
The Home Farm, Brodick
Don't be misled by the term «Home Farm» – this area of Brodick is a range of shops, places to eat and plenty of parking spaces.
Arran Aromatics
From the main unit – Arran Aromatics export their products world-wide. Advertised as Scotland's premier gift toiletries and candle making centre, you can watch how some of the products are being made and purchase them at a well-stocked Factory Shop, where you can have a go to make your own soap.
Open Mon - Sat 0900 to 1730 Sunday 1000 to 1700.
Tel: 01770 302 595, Please . Website: Arran Aromatics
Copperwheat Café
A nice bistro-style café open during the opening times of the Duchess Court Shops. Refresh yourselves with a coffee, a tea or a soft drink and have a snack to quench your hungry stomach before or after shopping here.
Creelers of Arran

Arran's world famous seafood restaurant, «Creelers», is open daily for a wide variety of seafood dishes including locally smoked produce. It sells also fresh and smoked fish and seafood in a small shop near the entrance. The smoked products come fresh from the smokehouse, where Tim James personally supervises the smoking process.
It is open just before Easter until end of October.
Tue – Sat 1230 – 1430 and 1800 – 2130, Sun 1300 – 15.00 and 1800 – 2130.
Phone 01770 302 797, Please . Website: Creelers of Arran
The Island Cheese Company

The Isle of Arran being «Clean and Green» seemed a natural place to establish the Island Cheese Company, and so this family business was formed over 15 years ago in the Home Farm of Brodick Castle. Nowadays they sell at 15 farmer's markets each month and supply a number of outlets throughout the UK. Here, eight wax sealed flavoured cheddars are produced with great care. You may see the people working through a glass wall.
The Shop opens along the normal opening times of the centre.
Phone Tel: 01770 302788, Please . Website: The Island Cheese Company
---
The Arran Heritage Museum, Brodick
A very interesting presentation of artefacts and records of island life through the centuries can be found at the Heritage Museum in Brodick. Anybody interested in archaeology will find a plethora of information about the first settlers on the island. Very interesting is as well the vast archive which is not only excellently organised but also continuously supplied with information in word and pictures. A field trip for anyone in search of his/her roots on Arran or interested in the islands history.
Appealing to both adults and children alike, the centre is open daily (10.30 to 16.30) during the summer months and on Wednesdays only in winter. The tea room is really to be recommended. A large parking area has ample space for the visitors cars.
Tel: 01770 302 636, Please . Our Website The Arran Heritage Museum
---
Brodick Castle
The Castle, built on the site of a viking fortress, was home to the Dukes of Hamilton. Let yourself be taken back in time and walk through their former residence and admire amongst others the superb collection of silver, porcelain, paintings and sporting trophies. The castle is owned by the National Trust for Scotland and set in beautiful grounds with parcs, gardens, nature trails and walks, an adventure playground, a restaurant and a gift shop.
Open daily in the summer (tours available). Winter hours vary (see local press).
Tel: 01770 302 202, Website: National Trust of Scotland
---
Isle of Arran Distillers, Lochranza
Arran's distillery offers extensive tours, whisky tastings, fine lunching in their first floor restaurant and a very well stocked shop to purchase Arran Malts (10 and 14 years old) as well as a carefully selected range of unusual gifts. This distillery is famous for its modern approach to mature specialist «Single Cask Whiskies», matured in hand-selected casks from top quality wine and spirit producers worldwide. The newest product, «Machrie Moor» peated Whisky, has just been launched at the distillery on the 28th November 2010. A visit to the distillery is an absolute «must» for all Arran Visitors.
Open Apr to Oct: daily, 10.00h to 17.00h, Nov to Mar: Mo, We, Sa, Su, 10.00h to 17.00h
Tel: 01770 830 264, please . Website: Isle of Arran Distillers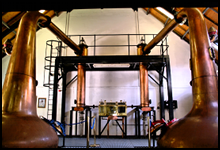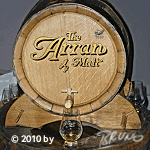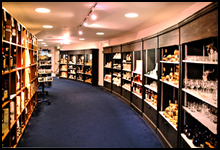 ---
Cladach Visitor Center, near Brodick
The Cladach Visitor Centre is well worth a visit either by car taking the coastal road to Corrie or by walking along the Duke's beach along the edge of Brodick Golf Course, where an array of sea birds, seals and other wildlife can be seen.
The Isle of Arran Brewers
Set in the shadow of Arran's imposing Brodick Castle, with panoramic views of Brodick Bay and Goatfell Mountain, our new, high-tech micro-brewery blends naturally with its stunning surroundings. Built to the highest standards to ensure that quality and consistency are maintained, our new brewery combines the art of traditional brewing with a natural blend of the island's unique water and the finest ingredients. The result is a range of ales which, like Arran itself, offers something very special. A competent explanation of the brewing process is then finished off with a generous tasting of these special local beers.
Tel: 01770 302 353, please . Website: Isle of Arran Brewery
MacKenzie Leather
Alan MacKenzie is a maker of high quality leather handbags, briefcases, gladstone bags and medical bags. All the bags will be specially made for you. You can chose from a range of leathers and lining colours and he will be happy to send you leather samples. If you have any enquiries or would like to place an order please do not hesitate to contact Alan. Tel: 01770 302 311.
Please . Our Website: MacKenzie Leather
Arran Active
A very essential shop for all guests of Arran who need to buy clothing and equipment for the «Great Outdoor Experience». With this shop very handy, it does not matter if you forgot to bring your outdoor stuff with you. They will certainly be able to equip you with most things you need for your hike or camping trip.
Open Mon to Sat 1000 – 1600, Tel: 01770 302 416. Please Our Website: Arran Active
The Wineport Bar and Restaurant
The Wine Port is situated at the foot of Goatfell. With pedestrian access to Brodick Castle, the «Wine Port» has outdoor seating and a large car park. Where possible we source and use local products from local producers and at the Wine Port we have Arran Ale, Arran Malt Whiskies, home made baking using local produce, for soups, casseroles, pizza's, Pasta dishes and a variety of sandwiches. Scones, shortbread, Tea's. Coffee's and soft drinks are also available. Enjoy a glass of wine from our extensive collection. Open from early morning through out the day to early evening you will experience a warm welcome in comfortable surroundings. We welcome you and hope that you enjoy the «Wine Port» and your stay on the Isle of Arran.
For table reservations phone 01770 302 101
Marvin Elliott, Woodcarver Sculptor
has his workshop and exhibition on the other side of the street, a few steps towards Corrie. Marvin Elliott woodcarver sculptor lives and works by the sea on the Island of Arran, where beaches provide him with many of his motifs, and very often the material as well.
Open by appointment by phone to 01770 810 636 or My Website: Marvin Elliott

Richard Leclerc, Architectural Glass
has his workshop and exhibition also on the other side of the street, more or less directly opposite the access road to the Claddach parking space. He is an artisanal maker and restorer of stained glass windows, screens and decorative features in traditional stained glass or «float or flat glass work».
Open by appointment by phone to 01770 302 781 or My Website: Richard Leclerc

---
Balmichael Visitor Centre, Shiskine
is closed until further notice.
As soon as I have news, I will post them here, also about the much loved shops and workshops in this centre: Pooch Leather goods, Arran Gems for jewellery, Arran Ceramics, Trareoch Craft supply, Arran Art Studio.
---
Don't Forget...
… there are many small independent craft studios, galleries and exhibits scattered around the island. Further information on some of these is listed in the village/region pages.
---
A free weekly online community newspaper, which will publicise Arran activities. Everybody is invited to contribute (articles, pictures, news). Published every Thursday. Printing facility online available.
Website:
Click here to visit the website
Email: