From north of Pirnmill to Machrie, the coastline along the western shores is quiet, there being only a few tiny hamlets dotted every few miles. This is very much the "sunset strip" of Arran! Glorious summer evenings can be spent on the pebble or sand beaches watching the sealife whilst the sun sets. A perfect place to watch birds and good opportunities for the children to explore the rock pools. The Westcoast is the ideal starting region for some of the most wonderful long walks into the mountains and long Glens on Arran: from Pirnmill to Thundergay (ca 11km) over three Beinn of over 700m, from Catacol to Dougarie, passing a couple of romantic lochs (ca 16km). A bit south of Machrie is the parking and the pleasant walk to the much visited "Standing Stones of Arran", further south the same for the Kings Caves, an impressive arrangement of natural caves, where Robert the Bruce allegedly met the Spider...
Available accommodation are a couple of B&B's and selfcatering establishments. There is a tearoom and a Village Shop/Post Office at Pirnmill, a Garage (no Petrol) and golf course/tennis court with tearoom at Machrie. This coast is also the home of the famous Old Byre Showroom Shop and Tea room, just a mile south of Dougarie.

New:

Achabhealaidh B & B, Machrie, 01770 840 360, open all year
Clisham B&B, Pirnmill, 01770 850 294, open Apr to Sep
Mill Cottage B&B, Pirnmill, 01770 850 531, open all year
Click here to see current room availability on selected properties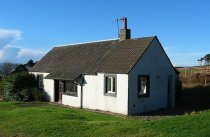 Proprietor: Dougarie Estate
Dougarie Holiday Cottages
Dougarie near Machrie
Isle of Arran KA27 8EB
Tel: 01770 840 259
Fax: 01770 840 266
Email us:
Click to visit our website
Stone built traditional cottages in isolated position with wonderful sea and hill views. Each cottage is equipped with electric cooker, washing machine/tumble dryer electric panel heaters or central heating and outside eating area. Cots and high chairs available.
Weekly rent £320 to £700
sleeps up to 8





Balnagore Farmhouse, Machrie, sleeps 12, 01403 822 364, open all year
Bayview Back House, Pirnmill, sleeps 2, 01770 850 230, open all year
Cairnfield Farmhouse, Machrie, sleeps 10, 01703 822 364, open all year
Dougarie Holiday Cottages, Dougarie, sleeps up to 8, 01770 840 259, open all year,

more details see above

Druid Farmhouse, Machrie, sleeps 6, 01292 443 769, open Mar to Oct
Hazelwood Farm, Imachar, sleeps 7, 01770 850 222, open all year
Kilbrannan House, Pirnmill, sleeps 8, 01224 743 592 or 07711 285163, open all year
Machrie House, Machrie, sleeps 5, 01770 840 223, open all year
Sand Martin Cottage, Auchencar, Machrie, sleeps 6, 01770 840 338, open all year
Sealladh-na-mara, Pirnmill, sleeps 6, 07941 325 792, open all year
The Millhouse, Pirnmill, sleeps 4, 0131 667 2267, open all year
Rowanbank, Machrie, sleeps 4, 01403 822 364, open all year
The Wee Rig, Pirnmill, sleeps 4, 01770 850 228, open all year
Valley View, off String Road, sleeps 8 01770 302 318, open all year
Westview Cottage, Pirnmill, sleeps 4, 01770 850 294, open all year
Willow Cottage, Whitefarland, sleeps 2, 0141 637 2945, open all year
Click here to find holiday home availabilities on selected houses and flats



Machrie Tearoom
Golf Course, Shore Road, KA27 8DZ, Tel: 01770 840 329
You have just walked across Machrie Moor, circled around the standing stones or played a round of golf beside the rolling sea? Then all the fresh air will have made you hungry and ready to have a break. Lunches, delicious soups, homebaking, take aways, outside catering, large selection of teas, coffees, Arran Dairy ice cream. Kids play area. Original Arran artwork and souvenirs for sale.
Special on Thursdays and Fridays, 18.30h – 20.30h: Fresh seafood and grill, bring your own bottle of wine! We accept bookings.
Open:
Mon – Sat 09.00h – 17.30h, Sun 10.00h – 16.30h
Lighthouse Café and Restaurant, Pirnmill, 01770 850 240, open: Summer: March to October, every day, 09.00h to 21.30h, Winter: November to February, Fri, Sat, Sun, 12.00h to 20.00h, bookings for evenings recommended
Machrie Bay Golf Club Tearoom, Machrie, 01770 840 329, open daily 10.00h to 17.00h
Old Byre Tearoom, Auchencar, Machrie, 01770 840 227, open daily 10.00h to 17.00h

Pirnmill Stores and Post Office, Shore Road, Postal services, general food supplies, Offsales, Newspapers and Magazines, bottled gas, 0pen 7 days, 01770 850 235
Old Byre Showroom, Auchencar, Machrie, Sheepskin and leather goods, Knitware, Children's wear, and much more, 01770 840 227

C M Weir and Sons, Machrie, Cars and Vans: sales of new and second hand, damage repairs and recovery, 01770 840 231

Machrie Golf and Tennis Club, Machrie, 9 holes, 2'200 yards, par 33. Golf clubs and trolleys for hire, putting green, tennis courts. 01770 840 329
Machrie Standing Stones, to the south of Machrie. An easy walk along lovely contryside, ca. 2km to the famous stone Monuments of ancient history, a roundtrip of about 1 to 1 1/2 hours. Ideal for a walk with kids. Parking off main road opposite the walk (just don't miss it, the signs are nearly invisible...)
Kings's Cave
Starting points: on the C841 midway between Blackwaterfoot and Machrie (large parking with picknick table, roundtrip about 5 km) or at the Golf and Tennis Club nr. Blackwaterfoot (ca 13 km). A combination is possible.
Long distance walk from Dougarie to Lochranza or Catacol Bay. A rough and long (ca. 16km) walk through unpopulated glens along Loch Iorsa and Loch Tanna (on way to Catacol Bay). Nothing for the unexperienced. Well deserved Pubs near journey's end.
Mountain walk from Thunderguy to Pirnmil. Climb first up to pitursque Fhion Lochan (330m), – in itself a good small walk, 2 hours return – from there up to Beinn Breach (710m), down and up to Mullach Buidha (720m), now down and up to Beinn Bharrain (715m). Again only for experienced «mountain goats», please. All in all about 11 km, 5 to 6 hours. Reward at the end: the Lighthouse Tearoom.
A free monthly online community magazine, which publicises Arran activities and topics of interest to Arran's comunity. Everybody is invited to contribute (articles, pictures, news). Published every month.
Website:
Click here to visit the website
Email:
Visitor Information for the Isle of Arran

Banks

Royal Bank of Scotland, Brodick, tel: 01770 302 222
Bank of Scotland, Brodick, Tel: 01770 892 005
Mobile banking in Operation. In Brodick 24h ATM available

Post Office

Mail collections daily (excl Sun). Most postal services available in many villages. In some branches Currency Exchange available

Tourist Information

Tourist Information Centre: The Pier, Brodick Tel: 01770 303 774, Open Mon to Thu and Sat 9.00 to 17.00, Fri 9.00 to 19.30, Sun 10.00 to 17.00

Ferries

Caledonian MacBrayne Scottish Ferries
Operating Brodick <—> Ardrossan
and Lochranza <—> Cloanaig
Tel: 01770 302 166, then option 2 for Brodick

Public Transport

Busses from and to all Ferries.
Brodick <—> Blackwaterfoot via Lochranza (line 324), via the Southend (line 323) and direct via the String Road (line 322), Brodick <—> Corriegills (line 321). Day rover tickets available.